Let me tell you – ever since we got an Air Fryer I have been cooking ANYTHING I can in this bad boy and today I decided it was time to try bacon!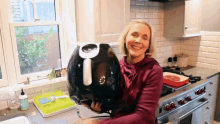 It's got to work, right?
RIGHT!!!
It totally works and it's soooooo good.
I love me some crispy bacon and you can definitely tell it's less greasy cooking it this way which is good – so if you like crispy, less greasy bacon this is for you!
Air Fryer Bacon
Grab whatever bacon you like – we normally use center cut
Heat up air fryer to 400 degrees
lay about 4-5 pieces in air fryer depending on how big your fryer is (they can overlap a little – that's not a big deal)
Cook on 400* for 10 minutes
TaDa!!!
It's tasty!!!
It's good!
I need more!!
But four pieces is enough lol.
I had those pieces and a Premier Protein shake for breakfast.
Yum!
And of course my jug of water lol I always have a jug of water!
Have you tried Air Fryer Bacon before?
Let me know!

xoxo
Don't forget if you'd like to Donate to YMAB Fitness so we can keep posting for you then you can donate here – https://www.paypal.com/paypalme/youmeandbenny