It's definitely Tuesday but with Monday being an 'off work day' due to Memorial Day I had no idea what today was at first.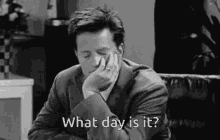 But like I said it's Tuesday and today was a GREAT day.
I got on the scale thinking I wasn't going to be close to my goal of being out of the 190's but I was OUT of the 190's by almost a whole pound!!!
I was so excited I almost fell off the scale – which obviously wouldn't be that far of a fall but it's still a fall I didn't want to take.
I immediately got on my phone and text my trainer who was just as excited as me.
Honestly – I was surprised but I was SO happy!
SO HAPPY!!!
First goal smashed – and I love it… especially since I wasn't expecting it.
Makes me excited for what's next – what goals I have left to smash and be excited about.
I swear it's something about that first goal that just sets the tone for everything and I am so ready and pumped I can't stand it.
Next goal – getting out of the 180's!
Just going to take it 10 pounds at a time when I have like 70 something to go.
Simple, easy and effective!
Definitely something I can do!

So glad I found my trainer on TikTok!
WHO FREAKING KNEW it would change my life like this and I am thrilled…. can't wait to see where it goes and enjoy the whole journey!

If you want to follow my journey find me on Instagram, TikTok and Facebook.
xoxo